Some industrial and commercial automated sliding gates we have manufactured and supplied.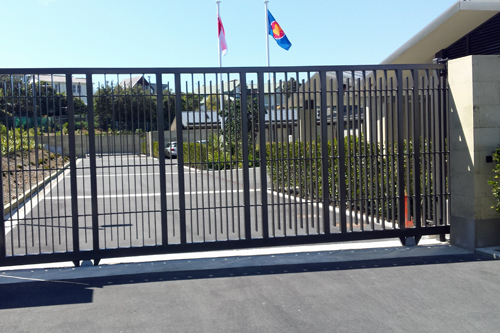 SL4. A commercial-sliding automatic gate that provides a secure, practical and attractive welcome to visitors.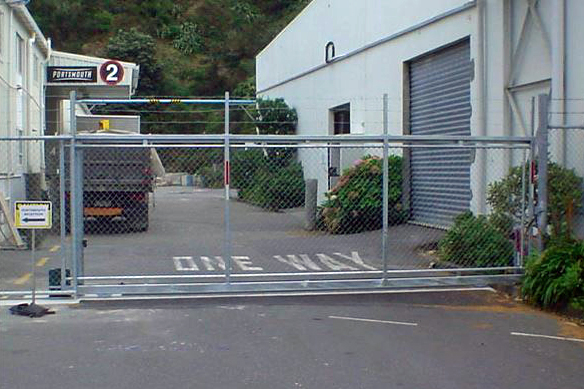 SL5. An efficient sliding automatic steel mesh gate that's a full driveway width for heavy vehicle access to factory and warehouse premises.
SL10. Automatic sliding gates are ideal for access control at residential care facilities. This one, pictured in open (from road) and closed (from inside) position, is at Woburn Apartments in Lower Hutt. It is constructed of aluminium with a powder coated finish and activated by card-operated swipe post as per our Gate Accessories page.
SL14. This automatic sliding gate is one of a pair, alongside which a matching fence panel was also installed. Read more here about this project.
SL21. An automatic sliding gate with security spears installed at the entrance of Frame Apartments, Molesworth Street, Wellington.
SL24. This industrial sliding gate is a little different in that it is made and assembled in telescoping sections.  The site was a tricky one for gated security, due to its slope and insufficient space for a full slider. With the client needing to preserve maximum access width for large trucks, this design proved the perfect compromise.
SL26. Execujet's Wellington Airport compound is protected by a Secura automatic sliding gate.  Secura gates & fences have a double top rail for added strength and heavy-duty vertical bars with spikes. Can be installed as a cantilevered gate.