A selection of our automated sliding gates installed on residential properties.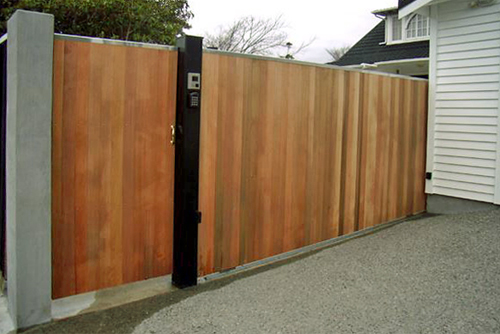 SL2. Giving privacy and security with a nice natural finish, this sliding automatic gate has separate vehicle and pedestrian access for safety and convenience.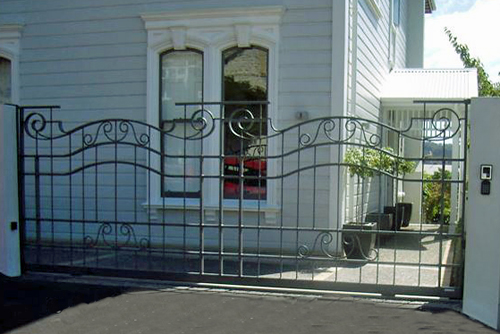 SL3. This on-ground sliding residential gate uses a centurion D3 operator, chain driven to fit into the site's restricted spaces.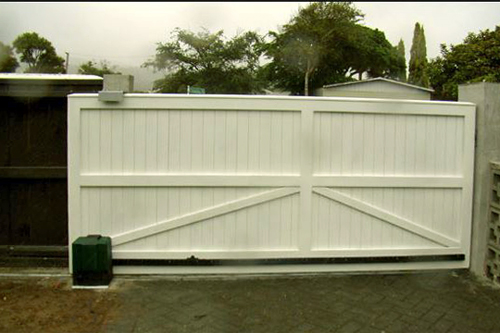 SL6. A solid wooden driveway gate automated for ease of use and giving the homeowners maximum security and privacy.
SL7. The sliding gate above, showing both roadside and property-side views, was supplied to the customer as a powder coated frame-only for completion on-site. The owners finished the gate construction  themselves, fitting and painting t&g wooden panels to the installed frame. The result is a very attractive and cost-effective residential automatic gate in this suburban Wellington street.
SL12. This residential sliding gate in Lower Hutt was supplied frame-only for the builder to complete with cladding to match the property's new front fence. The gate has full automation and opens to a width of 6.5 metres.
SL18. Matching automatic sliding driveway gate and pedestrian swing gate were commissioned for the Lower Hutt property. Aluminium frames were powdercoated to the client's choice of colour, on which timber cladding was added to mach the existing fence. A high quality photoelectric safety beam was included in the vehicle gate automation.
SL20. This residential automatic sliding gate has PVC panels, an alternative to timber or aluminium cladding.
SL25. Brush panels were used to complete this sliding gate in keeping with the attractive residential garden environment.  The fully automated gate has a powder-coated steel frame and is operated by a DEA FAST24 motor. The gate is shown from the roadside in closed position, and open from inside the property.