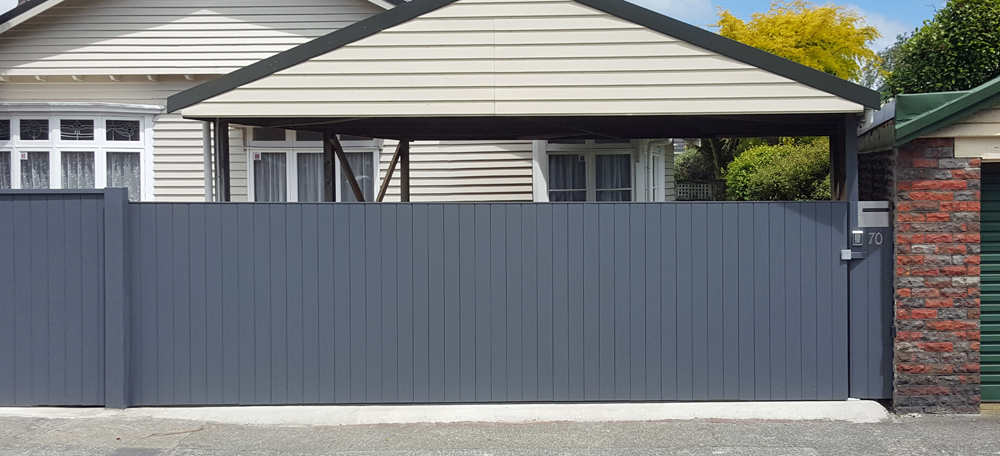 Sliding automatic gates provide practical security to all types of property, while adding street appeal and visual impact. We can design, manufacture and install sliding gates for the full range of industrial, commercial, institutional, public and residential properties.
While cantilevered automatic gates slide clear above the road or driveway to latch into a fixed post, the sliding gate is directly supported by wheels or runners in contact with the ground. This means that surface tracks may be required in some situations.
All of our sliding gates are particularly suitable for automation and control by any of the available means, as they operate at loads generally lower than free-standing gates. For commercial users, our electric sliding gates are robust and easy to operate while taking up minimal space. For residential locations their operation on a single vertical plane often makes them preferable to swing gates, which when open tend to obscure the homeowner's attractive front garden.
Sliding gates provide superior security. With both ends of the gate locked into support posts and no central weak point, sliding gates present a greater challenge to anyone seeking to break through.
Link below to a selection of customised automatic sliding gates we have produced in galvanised steel and aluminium, some with timber cladding.  We also supply and install a range of standard-design automatic sliding gates in aluminium. The styles available in that range are listed here in swing gate form. They are all just as easily produced as sliding gates, and can be modified as required to suit your needs.