When the subject turns to gated security, talk to the team that leads the way in automated gate design, production, installation & service.
The Gateman Company Values
When Reliability Counts, that's the Gateman motto. Delivering bespoke and proprietary security and access control solutions to all types of public and private sector properties. Products that are robust, dependable, attractive and convenient to use. Nothing less than total customer satisfaction achieved with engineering precision and the use of state-of-the-art electronics to produce the best automatic gates on the New Zealand market.
When you deal with Gateman, you are dealing with a New Zealand-owned leader in the field, a company that has been in the business of manufacturing and installing automated gates since 1990. We stand by our products and services. Installing Gateman automatic gates gives you the benefit of all our after-sales services.
There are many cheap and inferior gate products on the Internet. A gate partner with history and expertise, one that will be there in the future if ever required, is well worth considering.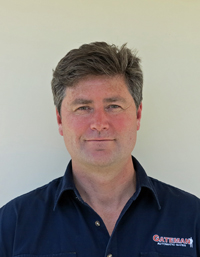 Simon Norrie – Managing Director
Simon was introduced to Gateman Automatic Gates when in 2007 he asked the company to build and install an automatic gate for his new private residence. Quality was particularly important to Simon, especially considering the property's exposed coastal location. Over time the gate has attracted much positive comment while continuing to perform admirably. To this day it continues to work and look as good as new.
Such was Simon's satisfaction with the Gateman product that in 2016 when he got the chance to join the company in a business partnership, there was no hesitation. After 30 years working in international finance markets, the opportunity just happened to coincide with Simon's decision to seek out a new venture.  Today Simon has full responsibility for the business as its Managing Director.
Simon is responsible for the company's customer relationships, business development and administration: knowledge and experience to complement the skills of the team's other members. Simon has put himself on a fast learning curve about design and production too, taking every chance he gets to lend a hand in the factory and learn from the experts all that goes into making quality automatic gates.
About Our Gates
We welcome all automatic gate enquiries, regardless of gate type, purpose, size or shape. Our production and supply emphasis is on large industrial and commercial gates, for which we have a strong reputation as our track record shows. If on reading the following pages you require further information on how an automatic gate can improve security and traffic management at your business site, let's talk further.
Likewise if you are in the market for a top-quality automatic residential gate that merits a budget from around $6,000 upwards, we have the products, services and expertise to meet your needs.
All our automatic gate installations are planned as site-specific, and likely to vary with regards to construction and control requirements. Our quote can include various options from which to select the optimum site solution.
Gate construction:
• Galvanized steel
powder coating optional
• Aluminium
powder coated frames
• Timber detailing
on galvanised steel frames
Control and security systems
• Radio remote controls
• Digital key pads
• Time clocks
• Swipe card proximity systems
• Smart programmable timers
• Centurion G-SWITCH GSM module
• Safety infrared beams
• Safety and free-exit loops
• Electric locks
• Audio and video intercom systems
• Protection bollards
Our gates are locally made from the best materials, and any importing is limited to components where not available New Zealand-made. The automation options we offer are all industry-leading brands, and we do not deal in inferior imported products. That is why we have been in business over 25 years, and why we have a reputation for quality.
Our larger industrial and commercial automatic gates can be completed and tested at our factory site before shipping to site, and simply craned onto a pre-wired concrete pad for connection and immediate operation. This turn-key solution has the advantage of speed in getting installations up and running, especially in bad weather. This efficient process is a particular feature of the Gateman Sliding Road Beam, and is also demonstrated in large industrial cantilevered gates such as the Taharoa Ironsands job.
Our qualified gate technicians and electricians are in touch with the very latest control and security systems available in gate automation. And they are on hand with your new automatic gate, from first weld to green light.