When the subject turns to gated security, talk to the team that leads the way in automated gate design, production, installation & service.
The Gateman Company Values
When Reliability Counts, that's the Gateman motto. Delivering bespoke and proprietary security and access control solutions to all types of public and private sector properties. Products that are robust, dependable, attractive and convenient to use. Nothing less than total customer satisfaction achieved with engineering precision and the use of state-of-the-art electronics to produce the best automatic gates on the New Zealand market.
When you deal with Gateman, you are dealing with a New Zealand-owned leader in the field, a company that has been in the business of manufacturing and installing automated gates since 1990. We stand by our products and services. Installing Gateman automatic gates gives you the benefit of all our after-sales services.
There are many cheap and inferior gate products on the Internet. A gate partner with history and expertise, one that will be there in the future if ever required, is well worth considering.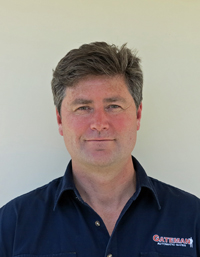 Simon Norrie – Managing Director
Simon was introduced to Gateman Automatic Gates when in 2007 he asked the company to build and install an automatic gate for his new private residence. Quality was particularly important to Simon, especially considering the property's exposed coastal location. Over time the gate has attracted much positive comment while continuing to perform admirably. To this day it continues to work and look as good as new.
Such was Simon's satisfaction with the Gateman product that in 2016 when he got the chance to join the company in a business partnership, there was no hesitation. After 30 years working in international finance markets, the opportunity just happened to coincide with Simon's decision to seek out a new venture.  Today Simon has full responsibility for the business as its Managing Director.
Simon is responsible for the company's customer relationships, business development and administration: knowledge and experience to complement the skills of the team's other members. Simon has put himself on a fast learning curve about design and production too, taking every chance he gets to lend a hand in the factory and learn from the experts all that goes into making quality automatic gates.
Amongst our portfolio of satisfied customers, we count many public enterprises and large business operators whose premises work better with our automatic gates and sliding road beams.
These organisations use our products and services because they know we're there when they need us, they can rely on us to deliver, and they trust us to follow up when needed.
Our work extends beyond supplying and servicing larger corporations and public bodies. Whatever your automatic gate needs, large or small, get in touch. We look forward to discussing your project with you!